The Field Post
---
The field post service was utilized to forward mail from and to some government and military establishments. The Field post during Italian Social Republic, derived from the more complex German mail system called Feldpost, that assigned a number of five figures to every combat unit. The italian numbering had, instead, a number of three figures, mostly assigned to Provincial Military Commands ( CMP ) of the most important cities. A different cancel was used to identify the four Italian Division deployed in Germany to training, i.e. : Monterosa, Italia, Littorio and San Marco. At the bottom are the four cancels belonging to these Divisions.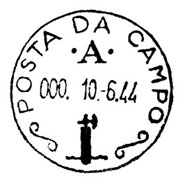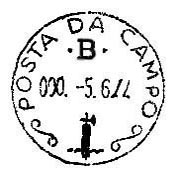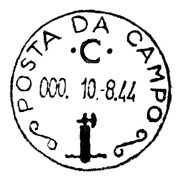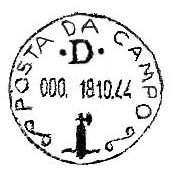 The letter A was assigned to San Marco Division, letter B to Italia Division, C to Monterosa and D to Littorio. The mail cancelled with these cancels is interesting.
---
            
Some covers coming from San Marco and Littorio Divisions are above showed. The red cancels are from German Munich censorship.
---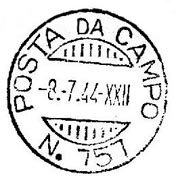 The typology of the cancel showed above is resolutely rareless than previouses, but interesting. The writing inside was accompanied by a number of three figures. The table at the bottom, shows some of these numbers assigned to Provincial Military Commands ( CMP ), deployed in some Italian cities.
| | | | |
| --- | --- | --- | --- |
| N° 735 - CMP of Ancona | N° 769 - CMP of Forlì | N° 803 - CMP of Parma | N° 835 - CMP of Sondrio |
| N° 737 - CMP of Aosta | N° 773 - CMP ofGenoa | N° 805 - CMP of Pavia | N° 837 - CMP of Teramo |
| N° 739 - CMP of L' Aquila | N° 775 - CMP of Gorizia | N° 807 - CMP of Perugia | N° 839 - CMP of Terni |
| N° 741 - CMP of Arezzo | N° 777 - CMP of Grosseto | N° 809 - CMP of Pesaro | N° 841 - CMP of Turin |
| N° 743 - CMP of Ascoli P. | N° 779 - CMP of Imperia | N° 811 - CMP of Pescara | N° 843 - CMP of Trento |
| N° 745 - CMP of Asti | N° 781 - CMP of La Spezia | N° 813 - CMP of PIacenza | N° 845 - CMP of Treviso |
| N° 749 - CMP of Bergamo | N° 785 - CMP of Livorno | N° 815 - CMP of Pisa | N° 847 - CMP of Trieste |
| N° 751 - CMP of Bologna | N° 787 - CMP of Lucca | N° 817 - CMP of Pistoia | N° 849 - CMP of Udine |
| N° 755 - CMP of Brescia | N° 789 - CMP of Macerata | N° 819 - CMP of Pola | N° 851 - CMP of Varese |
| N° 757 - CMP of Como | N° 791 - CMP of Mantova | N° 821 - CMP of Ravenna | N° 853 - CMP of Venice |
| N° 759 - CMP of Cremona | N° 793 - CMP of Apuania | N° 823 - CMP of Reggio E. | N° 855 - CMP of Vercelli |
| N° 761 - CMP of Cuneo | N° 795 - CMP of Milan | N° 825 - CMP of Rieti | N° 857 - CMP of Verona |
| N° 763 - CMP of Ferrara | N° 797 - CMP of Modena | N° 829 - CMP of Rovigo | N° 859 - CMP of Vicenza |
| N° 765 - CMP of Florence | N° 799 - CMP of Novara | N° 831 - CMP of Savona | N° 861 - CMP of Viterbo |
| N° 767 - CMP of Fiume | N° 801 - CMP of Padoa | N° 833 - CMP of Siena | N° 863 - CMP of Zara |

---