The Atlantic Base
---
On the late June 1940, an Italian Submarine Base was installed near Bordeaux ( France ). It was called BETASOM ( XI Gruppo Sommergibili ). These submarines had to oppose to allied ship sailing on Atlantic Ocean toward Mediterranean Sea. After September 8, 1943 ( Armistice day ), BETASOM refused the capitulation and after the liberation of Mussolini and the birth of Italian Social Republic ( RSI ), the troops of BETASOM joined the new Republican Government. The mail service toward Italy was performed by a cancel with a special postmark. This postmark changed after the Armistice, the Royal badge was deleted. Moreover some stamps were overprinted to delete the Royal effigy. The first overprint of these stamps was executed since October 1943.
---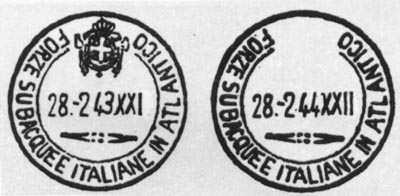 The cancels above shows , on left, the cancel used before Armistice with Royal badge and, on right, in RSI period without Royal badge.
---

This set was issued on October 11, 1943. The wording says : Republican Fascist Italy - Atlantic Base. Only 200 sets were issued, these stamps are therefore very scarce, but there are many counterfeits.
---

This set too was issued in October 11, 1943, but using another type of characters and layout. The print characters of this set and the previous set too, were token from aboard typography of the French transatlantic Admiral De Grasse. This set is not rare as the previous, but the second stamp above showed ( 15 cent. ) was issued on 50 pieces only; It is extremely rare.