Varieties of Fascetti
---
In this page I've put some pictures of the most important varieties of this issue, some of these are relatively common, other are extremely rare, but all these stamps are very interesting.
---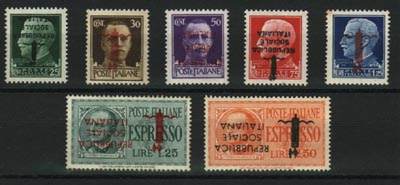 A classic variety: inverted overprints.
---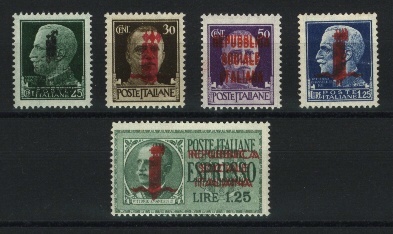 Some double overprints.
---

Some offsets.
---

These overprints occured by a wrong positioning of the sheet with the overprinting plate.
---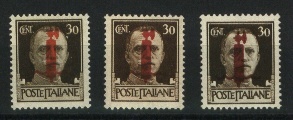 Above are showed several hues of ink, typical feature of the issue of Verona. From left to right: orange-red, brown-red and dark-red ( liver ). Different hues of ink are wanted by specialists.
---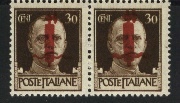 The most valuable variety of Verona's issue : the big fasces. This variety, visible on the stamps at right,occupied the position # 100 of the sheet. It is possible to see the difference of size of fasces between the two stamps showed above.
---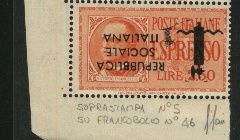 This strange variety ( the color spot visible between the fasces and the word ITALIANA ), occured ONLY on the sheet of Verona with inverted overprint. This lack damaged the position # 46 of the sheet.
---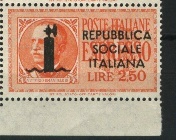 The position # 47 of the sheet of Rome, had a lack on the lower part of the fasces, maybe caused by a breaking of the press punch. This variety is also known on the special delivery stamp of 1, 25 Lire.
---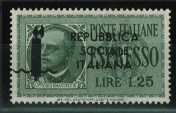 Some sheets of the stamp showed above were wrongly overprinted with black ink instead red ink ( Issue of Genoa ). Some of these stamps have a offset of red ink!
---

A classic variety of the Rome printing plate is the word REPUBBLICA, wrongly printed as REPUBPLICA in the position # 92, this variety is present only in the last issues, due to the consumption of the second character B.
---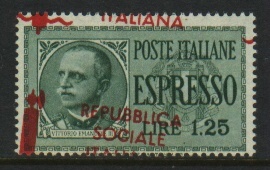 This likeable variety of the Genoa's printing plate, was caused by a wrong alignment between the sheet and the rolling cylinder of the printing machine.
---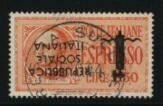 The stamp above was recently discovered and not yet classified. It is a scarce inverted overprint stamp of the issue of Genoa. The position of the sheet is # 44.
---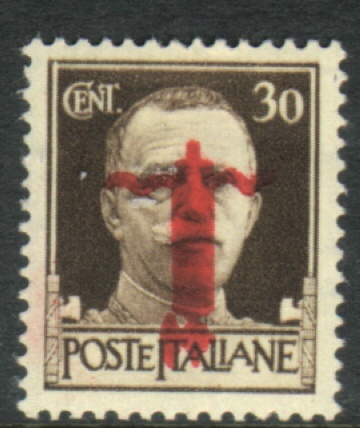 Extraordinary and not yet classified, the stamp above is an inverted big fasces orange-red inked.Three varieties in a stamp!
---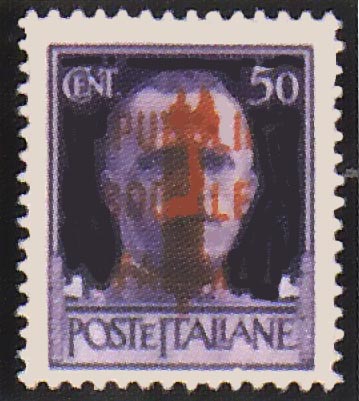 The scarce stamp showed above ( only 50 items issued ) is recently discovered in Genoa. Both the overprints were printed in this city. Two different overprint on a stamp.

---