Stamps of the Italian Social Republic
by Giorgio Bifani
Last updating : May, 2 - 2017
---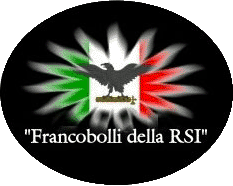 This is a NON-political site! My aim of creating this site is to exchange philatelic information and personal experiences with other people fond of the disputed period of the Italian history.
Why the Italian Social Republic? The stamps of the RSI(Italian Social Republic) have been banned for a long time due to political reasons! but whether one wishes or not Italy's history has passed also through the RSI(Italian Social Republic). Moreover the top rarity of some pieces and their value, as well as the huge amount of counterfeit stamps issued, make this field one of the most mistreated ones in the history of the Italian philately. Through these pages I intend, as far as I can, to contribute to relaunch this period, which is for sure one of the most interesting of the Italian philatelic history. Therefore I couldn' t miss this appointment with the stamps of the RSI(Italian Social Republic), because since I was a child I have always been fond of stamps.
Besides I intend by means of these pages to enrich my collection and to contribute to other people's enrichment, looking for and offering stamps and postal history of the RSI.